There are no Black African cyclists in this year's Tour de France.
Reinardt Janse van Rensburg and Louis Meintjes, both South Africans and accomplished multi-year participants, are the only cyclists from the African continent. Is this an indication of a decline in African cycling since Daniel Teklahaimonot and Merhawi Kudus burst onto the scene in 2015?
Hardly. The meteoric rise of young Eritrean cyclists like Biniam Girmay (a teammate of Louis Meintjes) on Intermarché Wanty Gobert Matériaux, Henok Mulubrhan on Bardiani-CSF-Faizanè, and Natnael Tesfatsion on Drone Hopper Androni Giocattoli, suggest otherwise.
The Eritrean National Championships, held a few weekends ago in Asmara, was one of the most prolific cycling events of the year. It was a literal who's who of established and new talent in that small country in the horn of Africa.
The recent headlines and chatter on social media in response to a Cycling Weekly article highlighting Nicholas Dlamini's open letter about his experience in the 2021 Tour de France intimates racism is a key reason for the lack of representation of Black cyclists in this year's Tour. From our experience working with Black African cyclists since 2007, this feels too simple a view to a multi-faceted challenge. Is there racism in this sport? Yes – overt and covert. Is this the key reason there are no Black Africans in this year's Tour? The answer to this is more complex.
We have discussed this question in a series of blogs after the overt display of racism by the German coach towards Algerian and Eritrean cyclists at the Olympic Road Race last year. To distill an answer to a question in one word – racism – is not to consider all the obstacles and barriers to entry to ensure better representation of the full potential of African cycling talent.
Team Africa Rising wants to state and acknowledge the racist incidents against riders and Black African staff. The team has witnessed racial slurs directed at riders from other cyclists in the peloton. There have been restaurants that have refused service. Unkind and misinformed fans are a reality. These experiences happen. But this is not the sole reason for the challenges in bringing top-level African cycling talent to the world stage. Racism is a societal problem not endemic to the sport of cycling.
Researching the UCI Data
Our team has conducted a deep dive into the data. Team Africa Rising interviewed current and recent top-level African professional cyclists and people of color within the industry to get a comprehensive foundation on which to build a better picture of this complex issue. We pulled data from the UCI's website from July 5, 2022, and conducted multiple interviews at the Tour de France. First, let us look at the data.
If you take the five traditionally leading nations of cycling – France, Belgium, the Netherlands, Italy, and Spain – there are currently 864 riders with UCI points representing these five nations. If you take the top 10 countries on the African continent – Eritrea, South Africa, Morocco, Algeria, Rwanda, Mauritius, Namibia, Lesotho, Burkina Faso, and Cameroon – you find 145 cyclists with UCI points. These ten countries represent an overall population of 205 million people.
Around 150 professional riders from these ten African countries initially felt low. However, for context, the United States, one of the wealthiest countries in the world, only has 54 cyclists with UCI points and a population of over 330 million people. So, these ten African nations, with over 100 million fewer people, deliver three times as many riders as the US. This data hints that this is a far more complex issue than just human bias.
Rider Experiences with Visas
We interviewed Reinardt Janse van Rensburg and Louis Meintjes at the Tour de France to get their thoughts on the challenges facing African cyclists. Louis is a teammate of Biniam Grimay. Biniam's stratospheric rise up the world tour ranks started in 2021 with a silver medal finish at the UCI World Championships in Flanders, Belgium. He followed that up with a win at Gent-Wevelgem, the first Black African to win a spring classic. And last month, he became the first Black African to win a stage at the Giro d'Italia before being sidelined by an errant champagne cork.
Louis is currently sitting in seventh in the GC after an epic stage from St Etienne to Mende. This week we enter the Pyrenees before the finale in Paris. Louis mentioned visa issues and financial constraints as significant hurdles for many African riders who need to go to Europe for training and racing. Most riders can only come over on a 90-day tourist visa. This timeframe doesn't cover more than one-third of the racing season.
"The first opportunity is the big thing…the possibility to jump into Europe was the biggest hurdle for three months at a time, on a holiday visa. For smaller riders it's an even bigger problem. To go through that process those first years by yourself is really, really difficult. There's a big financial burden if you're trying to do it yourself if you don't come from a family that can support you or a national federation that supports you it's really quite hard."
This situation is valid for riders regardless of race or ethnicity. True, certain countries have no visa requirements, such as the United States. European cyclists can travel freely between Schengen countries. Interestingly, South American countries like Ecuador and Colombia do not need to apply for Schengen visas which make for more riders from these countries on World Tour teams – 94 riders with points on the UCI rankings. Obtaining visas is one of the most considerable obstacles for cyclists from the African continent. This situation reinforces that the challenge is far more complex than simply citing racism. Regarding visa approvals, it comes down to each country's assessment of potential flight risk and burden to the visa-issuing country.
Team Africa Rising is personally experienced with strict visa criteria. We have seen four Rwandans, two Eritreans, and one Ethiopian seek asylum after arriving in a host country after a lot of work applying for visas.
The Lack of Competitive Racing
The lack of high-quality, competitive racing was another factor mentioned by both South Africans and several other interviewees. Several outlets have pushed the narrative about the lack of racing on the African continent – not enough races in general and not getting invitations to the races on the UCI schedule. Can all the countries on the continent do better in hosting more races? Absolutely. Will those races make the difference for these cyclists to bridge the gap between their African country and European racing? Probably not.
Louis reinforced this point, saying, "South Africa racing is mostly for sportive events. Quite a big gap. Some years there's just a strong group of young riders that pull you up. Some years, if the level is low, the guy winning might think he's doing well but really he's just a big fish in a small pond." Team Africa Rising sees this play out in almost every country where we work.
The Tour of Lunsar is a commendable initiative by a young man in Sierra Leone. However, it is not a UCI event. The local cyclists rebelled when the organizer wanted to bring in other African nations. They did not want the competition. They wanted to remain the big fish in the small pond. This mentality often destroys careers before they start. Samuel Mugisha, a Rwandan, won the 2018 Tour of Rwanda 2.2 – the last year before going 2.1. He got a contract with Team Qhubeka's Continental team but did not seize this opportunity. Samuel has since signed for ProTouch but has not delivered any meaningful results. He was treated as a champion in Rwanda but was a nobody in European cycling. He never made the leap.
Riders Must Go To Europe
Every cyclist who wants to be the best in the world knows at the core of their soul that they must go to Europe. To be the best, you must race with the best. Our founder, Jock Boyer, was the first American to race the Tour de France. He moved to France in 1973 at 17 years old with $300 in his pocket. He had an address from a friend in the US who knew a guy who had a club. Louis Meintjes first went to Europe at 17. Biniam Girmay was third to Remco Evenepoel at a stage race in Belgium at 18. If you want to be the best, you must go to Europe
An excellent piece appeared in Cycling News in October 2020, written by Daniel Benson, interviewing Robbie Hunter, Biniam Girmay's agent. Robbie is a former South African cyclist and the first African cyclist to win a stage in the Tour de France (2007). This article raises the same questions we asked in this piece two years and many more African cycling successes later. It also discusses cultural challenges faced by African cyclists. It delves into language and educational barriers, and more effort needed by teams to invest in these cyclists.
Team Africa Rising's stance mirrors these points. One of the teams who returned Robbie's calls was Circus Wanty, now Intermarché Wanty Gobert Matériaux. With Biniam's success, not only has that investment paid off, but at the 2022 Eritrean National Championships, rumors abounded of European agents flocking to see the young talent all of us working in African cycling have always known is present.
Development and Technology
The countries doing the most comprehensive cycling development work on the African continent include Eritrea, Algeria, and Morocco. Teams like Kinetic Pro Cycling out of South Africa also are making their mark. Algeria and Morocco took a large portion of the medals at the recently completed African Continental Track Championships in Nigeria. Their rankings are beginning to show their progress.
Other nations with strong Federations, such as Benin, are starting the development journey and showing great promise but may not see international success for years. Most of the development work in Rwanda comes from the Adrien Niyonshuti Cycling Academy (ANCA). ANCA has embraced virtual technology to drive training and racing. ANCA also maximizes rider talent and junior development through data collection, which Louis Meintjes mentioned in his recent interview. Collecting this data for Pro Continental and World Tour teams is crucial to seeing how African cyclists stack up against professional talent. Companies like Zwift, Wahoo, Core and Whoop have embraced ANCA and invested human resources in developing their coaches and athletes.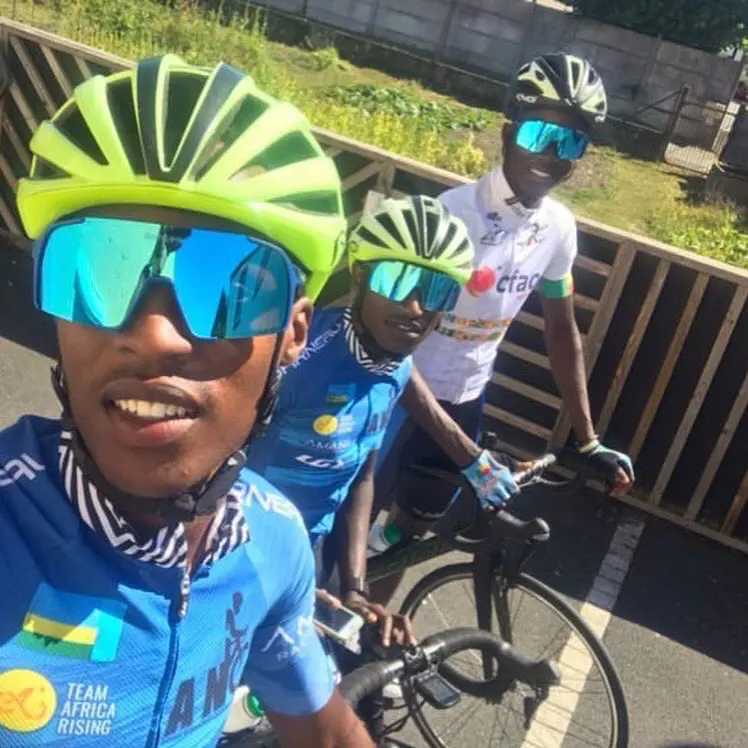 Coming full circle in our assessment, to develop African cycling to its fullest potential involves addressing and finding solutions to a multitude of obstacles. There needs to be improvements in the sports visa process, financial sponsorship, support for cultural differences, a better understanding of the sport in the many poorly run national cycling federations, and an ever-vigilant stance on tackling racism whenever it appears. There is an argument for an increase in UCI 2.1 and 2.2 races on the continent. But there are many financial, travel, and logistical challenges to this.
All of us involved in rider development and team management must work together to ensure a talent pipeline, support for that talent, and better communications about this talent with European headquartered teams. Teams need to believe in the potential of young African riders as much as they believe in their European peers. More development work needs to continue on the continent. Federations need to stop being the problem for cyclists and instead be the reason they succeed.
Some day there will be an African rider standing in yellow in Paris, and race will not be the reason. It will be because, during those 21 stages, they were simply the best.