After two days of massive sprint finishes at the Tour of Rwanda, today's Stage 3 was primed to be the stage to shake up the General Classification and showcase the talent that makes the Tour of Rwanda one of the most remarkable races on the African continent. Stage 3 from Huye to Musanze covered 199,5km, the longest stage in the Tour's history with 3,360 meters of climbing. The climbers were primed, and Eritrean Henok Mulubrhane riding for Green Project Bardiani, took the stage win and secured a tenuous two-second advantage over two European rivals in the GC.
In addition to Henok, Eritreans Metkel Eyob, the Professor, riding for Terengganu Polygon, a Malaysian Continental Team, and Dawit Yemane, riding for Team Bike Aid, a German Continental Team, joined Henok in the top 10, landing 8 and 7th, respectively, in the GC. Rounding on the Top 10 is the story of the day because, after all, it's Rwanda, and we need to talk about the hometown phenom, Eric Muhoza, now 10th in the GC.
Eric Muhoza
Eric Muhoza is part of cycling royalty in Rwanda. His father who passed away, was Emmanuel Turatsinze, was a famous cyclist in Rwanda decades ago. His brother Eugene raced for SKOL Continental Team. And his first cousin is 2012 and 2016 Olympian Adrien Niyonshuti and the only Rwandan cyclist to race on a World Tour Team. When reaching out to Adrien about Eric's performance today he said, "I couldn't be happier. Eric came up through my cycling Academy in Rwanda. He's a smart rider and he is going to do big things in the sport. I hope he continues developing to reach a World Tour team."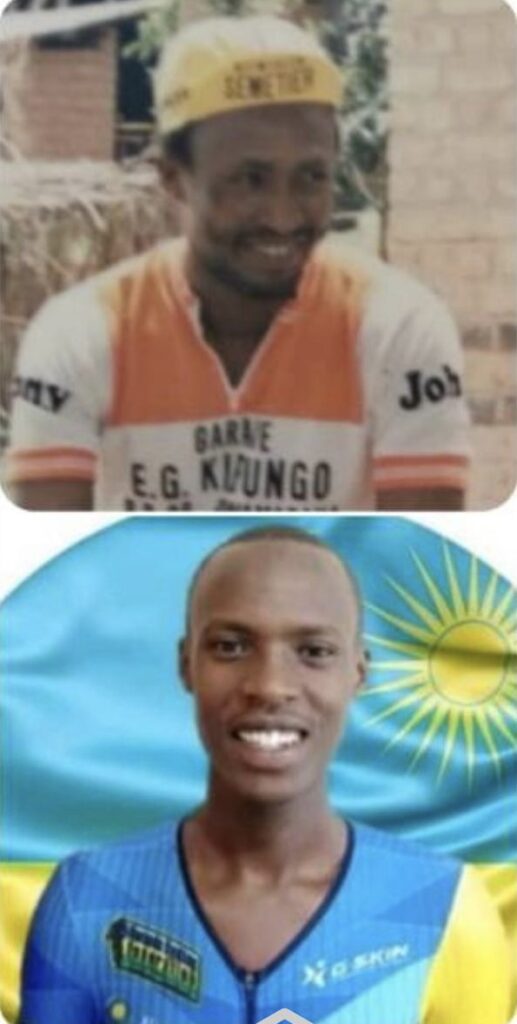 A little-known story about Eric's auspicious start in the sport. In 2015, Team Africa Rising, along with the Good Dirt Ride fundraiser in the US and our friends at the Qhubeka Charity donated a container of Qhubeka bicycles on behalf of Adrien and his membership on Doug Ryder's Team MTN Qhubeka. These 250 bicycles went to schoolchildren in Adrien's hometown of Rwamagana. Eric Muhoza, just 12 at the time, was one of those schoolchildren to receive a Qhubeka bicycle!
Rouler Pour le Rwanda
This summer, Eric traveled to France to spend the summer racing with Steven Laget's Rouler pour le Rwanda project. Steven also took Samuel Niyonkuru and Ricardo Sodjede, and Glorad Saizonou from Benin. Eric's time in France caught the notice of the UCI who added him to their UCI CMC team for the Tour de l'Avenir. Eric, although involved in an early-stage crash, soldiered on and finished 71st in the race of 162 participants (87 did not finish). This performance drew the attention of Team Bike Aid of Germany. Steven Laget summed up his performance today, 
"Regarding Eric's result, I am not surprised his abilities because he has enormous potential. He knows how to listen and has a good vision of the race. I hope he will be able to do better than a top 10 because he deserves it. I called him earlier. He had good legs but was a little cold in the rain. He is confident and also aware that he can deliver a big result for this Tour Du Rwanda. I hope that this performance will allow him to move forward and be at the forefront of professional races in Europe. I told him he could aim for a top five. For me, he is the rider who will be the strongest for the 2025 World Championships."
Team Bike Aid — Germany
Team Africa Rising helped secure Eric's selection with BikeAid, knowing the untapped potential of this young rider. When asked about Eric's performance, Bike Aid Director, Matthias Schnapka, responded,
"After the first three days of racing, we are very pleased with Eric. He harmonizes with the other riders of the team….On the first days, the media hype around Eric was a bit high, especially at the finish in his home village. Everywhere he would give interviews, and people wanted to take pictures with him. Of course, we are happy about that on the one hand, on the other hand he is a young rider who is very nervous for the most important race in his country, so we want to give him maximum calm and structure around the race. But now he wears the jersey for the Best Rwandan rider in the race. 
Today Eric and Francis, unfortunately, crashed on a downhill, where they also hurt themselves a bit. But both could continue the race. In the end, Eric, unfortunately, had cramps in the final climb, but he was able to keep with the first group, and now he occupies a top ten place in the overall ranking together with Dawit. A good situation for the next few days. And we are especially pleased that Eric has found confidence in our team and can call up his performance. This is already a great success for us."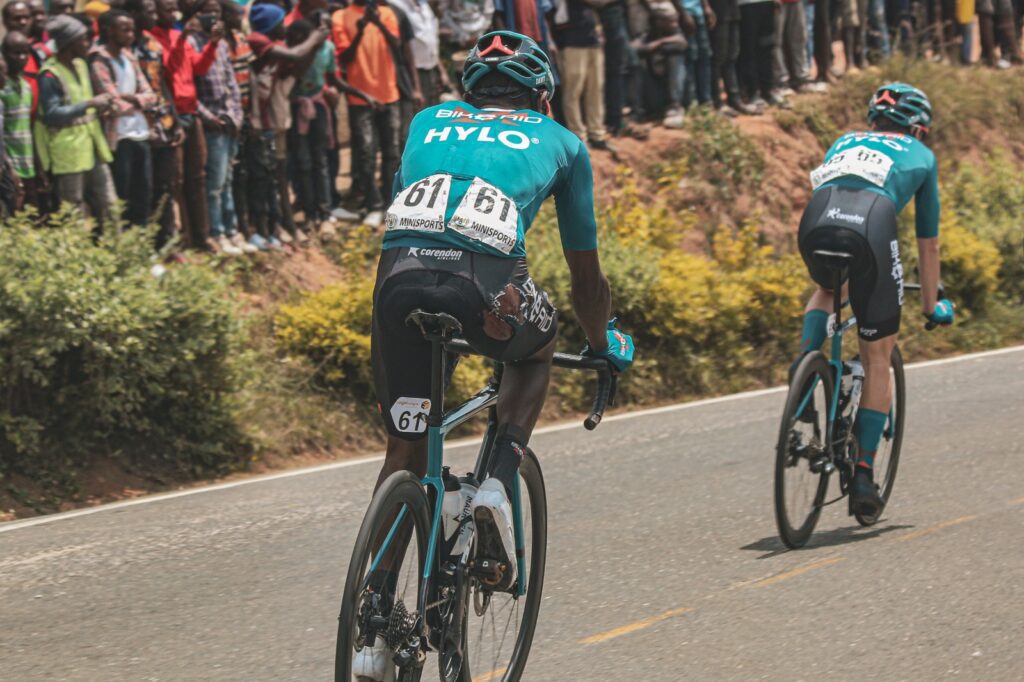 Eric Muhoza and his performance today is thanks to a group of organizations committed to developing the sport in Rwanda from Team Africa Rising, the former, Adrien Niyonshuti Cycling Academy (ANCA), Rouler pour le Rwanda and BikeAid, a German Continental Team committed to developing African cyclists. Eric Muhoza along with Samuel Niyonkuru look to be the future of Rwandan cycling.