Our previous post outlined the barriers to entry in cycling on the African continent for cyclists like Henok Mulubrhan and thousands of others. Based on the years spent living in Rwanda and working throughout the continent, it is our opinion that institutional racism is a factor in the lack of diversity within the professional peloton. As promised, Team Africa Rising breaks down in more detail the specifics of these barriers, why they occurred, and how we attempted to overcome, circumvent, or permanently dismantle the obstacle and the systemic power structure in place that feeds the solidity of the barrier. This blog will focus on access to equipment — bicycles, spares, tech, clothing, etc.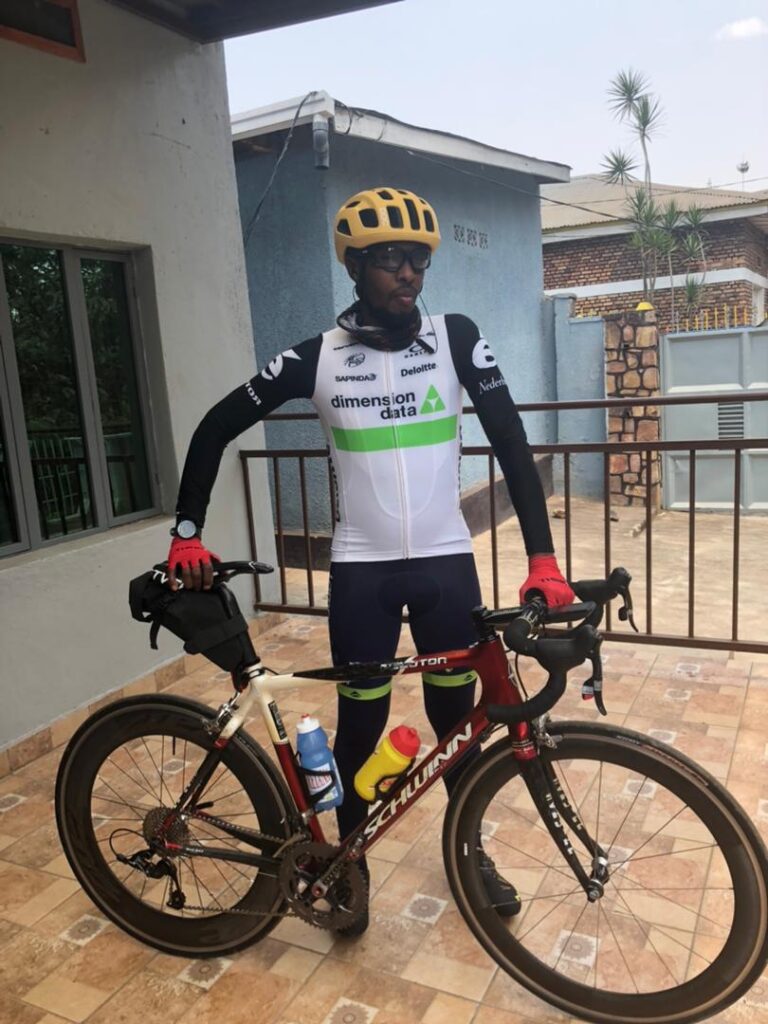 When Jonathan "Jock" Boyer arrived in Rwanda in 2007, he was tasked with testing potential talent. He quickly realized the shocking state of the equipment the riders attempted to keep on the road. Most bikes discarded rejects from the Belgian colonial era, which ended in the early 1960s. There's a scene in Rising From Ashes where Jock talks about how many times they needed to stop and repair flats. The with tubes had ten to fifteen patches holding the decaying rubber in place. Every time the team stops for repairs, it disrupts the rhythm of the training ride. It hampers their ability to benefit from the training properly.
That year, our good friend, Tom Ritchey, secured five road bikes to be supplied by Schwinn. There were no bike shops in Rwanda. The closest bike shop was in South Africa, 4,000kms away. Jock reached out to all his former sponsors and friends — from his 40-year career in cycling — for help. And they delivered! Rudy Campagne, the owner of Vittoria, was one of the first to come on board. He supplied over 3000 tires in the early years. Rosella Signori, the daughter of Dino, the founder of Sidi, started a decades-long commitment to making sure cyclists had shoes. Angelo Caccia from Campagnolo provided group sets at a discount reserved for but a few teams. A few years in, Louis Garneau became the clothing sponsor and a financial supporter. He not only clothed the national squad but sent hundreds upon hundreds of helmets to cover and protect every cyclist. Reynolds, LOOK
Bike companies generally do not sponsor national teams. Worldwide National teams generally only compete in a handful of races, so it is of no benefit to companies to spend money on such limited visibility. One company spends $1 million for the complete bike sponsorship of a World Tour team. Team Rwanda Cycling was the beneficiary of extraordinary generosity.
In 2010, Team Rwanda Cycling's total budget was approximately $100,000. This funding included salaries for expatriates, Rwandan staff, and eight riders. It funded two rental houses, 40 + weeklong camps per year, food for 10 – 15 cyclists and staff per week. It also covered utilities, fuel for the SUV, and motorcycle, flights back to the US, and other incidentals. There was no money for equipment. 
Even as Team Rwanda Cycling progressed and grew into a staff of almost 30, a bank of riders of 25+, and a 3-acre compound, Africa Rising Cycling Center, the budget never topped $450,000. According to Velo News, a UCI Continental team can "survive" on mid-six figures. Pro Continental survival is $1-4 million, and World Tour? $10 to $40 million. The recently shuttered Team Qhubeka Nexthash operated on the lower end of that scale.
In the beginning, everything came over in a suitcase. Shipping things to Rwanda in the mid-2000s was cost-prohibitive. You never quite knew what the duties would be on the items or if they would ever arrive. Team Rwanda Cycling's overweight and extra bag fees ran into the thousands of dollars every year. As Team Rwanda Cycling grew, it became more challenging to get the items needed to run a team of 15 – 20. Every time there was a crash, and a bike broke, it was a small death. Thankfully, Craig Calfee came along and trained the up-and-coming team Rwanda mechanics to repair carbon fiber. His generosity in sharing that skill put hundreds of bikes back on the roads in Rwanda, Ethiopia, and Eritrea. 
Jock would hit Interbike and talk to every single potential sponsor over a whirlwind 48 hours each year. He was relentless. Park Tool, Enduro Bearings, Clif Bar, Reynolds Wheels, Campagnolo – what could they give us? We would take anything. Last year's models, scratch and dents, overruns, anything sitting in their warehouses, we would take it. Discounts? Jock hammered them. How much can you give us? Wholesale plus 30%? In the beginning, I watched him tell the story of the scrappy team of Rwandan cycling, get the commitment, and I would hurriedly write it all down as we moved on to the next company. Then came the follow-up, how we would pay for it, and how we would get the items to Rwanda. Frenzy is the only word to describe our procurement of equipment.
The most significant game-changer came in 2010 when then UCI President, Pat McQuaid, began the Pro Tour Solidarity program, requiring Pro Tour Teams to donate five bikes each year to a developing country. Jock and Pat had raced together decades prior, and Pat knew the work Jock was doing to develop cycling in Rwanda and knew Team Rwanda Cycling would use the bikes for their intended purpose. One year Team Rwanda received five Eddy Merckx with the name stickers still attached. The following year came a fleet of Canyons and a group of Ridleys in the final years. This program ensured the team had legitimate racing bikes.
By 2014, Team Rwanda Cycling won the Tour of Rwanda and, with the help of the Rob and Melani Walton Foundation, began building out the garage at the new Africa Rising Cycling Center. We were still bringing in equipment in suitcases. President Kagame earmarked funds to purchase a complete fleet of new racing and time trial bikes with the Tour of Rwanda win in 2014.
It took over seven years of piecing equipment together before the team had the bikes they needed to compete at the same level as European countries. With a now dedicated budget for bikes, Jock called in every favor. The budget broke down to approximately $4,500 per bike. Those of you in the cycling world know what $4,500 will get you, an entry-level race bike. Pinarello, Reynolds, Look, Campagnolo, Enduro, Vittoria, Jagwire all came together to build an elite-level race bike worth $12,000 each for an entry-level price.
And still, there was no bike shop in Rwanda.
In 2017, Team Africa Rising began its year-long process to turn the program over to the Rwandan Cycling Federation. By mid-2018, TAR expanded its focus to the continent honoring its commitment to turn the day-to-day operations over to FERWACY and MINISPOC. Unfortunately, due to reported corruption at the Federation level by the former President and some members of the Executive Committee, ousted in late 2019, little investment or planning occurred. The goal of TAR has always been to open doors to sponsors for clubs, teams, Federations, and Ministries of Sport to enable them to work directly with the sponsors and manufacturers and grow those relationships one on one. This eliminates the involvement of TAR and helps these entities to become self-sustaining.
Sadly, due to the lack of relationship building in Rwanda with the former Federation, the sport has seen a marked loss of momentum. The current Federation is working to reestablish those relationships. But today, those Pinarellos are still on the road. There are no new race bikes, and it has been seven years with no substantial additional investment in equipment from Rwanda. COVID has wiped out the budget. 
And now, there is one bike shop in Rwanda, a country of 12 million people. It is owned by a group of partners, TRC's former mechanic, Sean Belfast.
Team Africa Rising continues to provide access to parts, equipment, and new technology in Wahoo trainers to not only Rwanda but Benin, Togo, Sierra Leone, Algeria, Kenya, and Uganda. Wahoo donated the initial ten trainers and now offers TAR a discount on the additional 60+ trainers purchased and sent to these countries. Jock continues to advocate for parts, equipment, and technology, working with not only our existing sponsors who continue to support efforts to raise the level of cycling on the continent but now also Zwift, Core, and Whoop.
Team Africa Rising's budget today? $250,000, give or take, which now goes primarily to equipment, shipping, duties, and training (flights and stipends for coaches and mechanics).
And yet, the struggles with equipment continue to be a deciding factor in getting this talent noticed by professional teams. The most glaring example of inequity in the sport came with the recent UCI E-Sports Championship qualifiers. Adrien Niyonshuti Cycling Academy (ANCA) received three invitations for their top three cyclists, Seth, Ramadhan, and Sibyuo, killing it in Zwift races since July. Masaka Cycling Club (MCC) from Uganda fielded two invites for their cyclists, Kato and Wasswa. The requirement from the UCI mandated a second power meter source. Understandable to avoid cheating. However, ANCA and MCC were given one month to secure the power meters before the qualifier.
Firstly, the expense. Power meters are over $1,000. Seth Hakizimana, from a small village in Rwanda, is simply not able to buy a power meter to qualify for a race. Secondly, back to a few paragraphs, there is ONE bike shop in Kigali. MCC donors paid for power meters for Uganda and shipped them to Kampala, Uganda. The equipment sat in customs as the qualifier race day came and went.
For Rwanda, a couple from Belgium flew to Rwanda with power meters, and the three riders were racing, with Seth being in the lead group on the verge of qualifying when the internet cut out for nearly 60 seconds. When it came back on, he raced to a 6thplace finish. The UCI  took the top five places to the finals. The echoes of Adrien's puncture in the 2011 African Continental Championships when attempting to qualify for the Olympics were stark.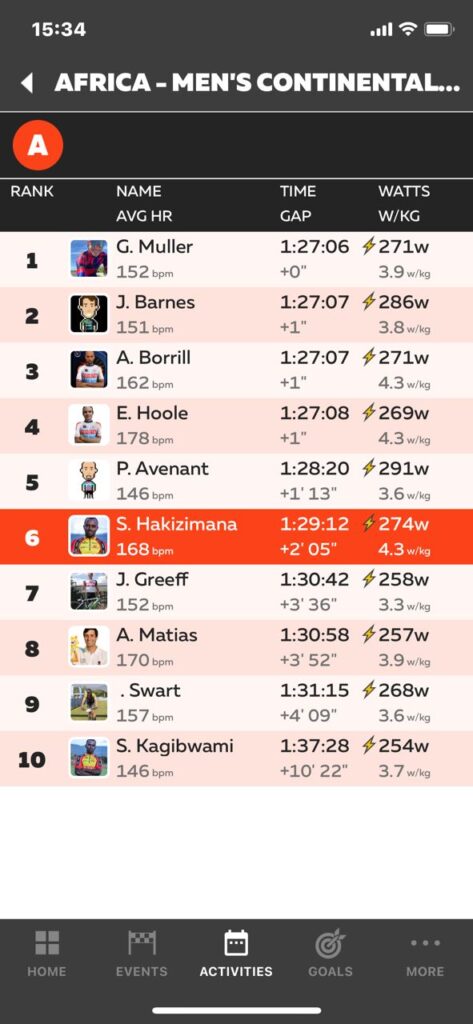 In the end, the E-Sports Championships qualifiers are four South African men, one South African woman, and one Angolan – all white. The white population in South Africa is 7.8% and 1-2% in Angola, but they make up 100% of the UCI E-Sports World Championships. South Africa has over 200 retailers and 300 brands and witnessed unprecedented growth during COVID 19 lockdowns. There is no more evident example of the effect of the equipment barrier on African cycling. The inability to secure equipment and access on the African continent intersects with poverty on the personal and national levels. We will discuss this in our next piece. However, despite the access to equipment available in South Africa itself, they have only managed to produce one black professional cyclist, Nicholas Dlamini. The reasons for this we will also go into in a future piece.