On 14 July 2022, retired World Tour rider Adrien Niyonshuti will take to the course of the world's most prestigious bicycle race, the Tour de France. He will be attempting to conquer the iconic Alpe d'Huez 14km climb, just a few hours ahead of the peloton, before they also cross the line at an altitude of 1,850m.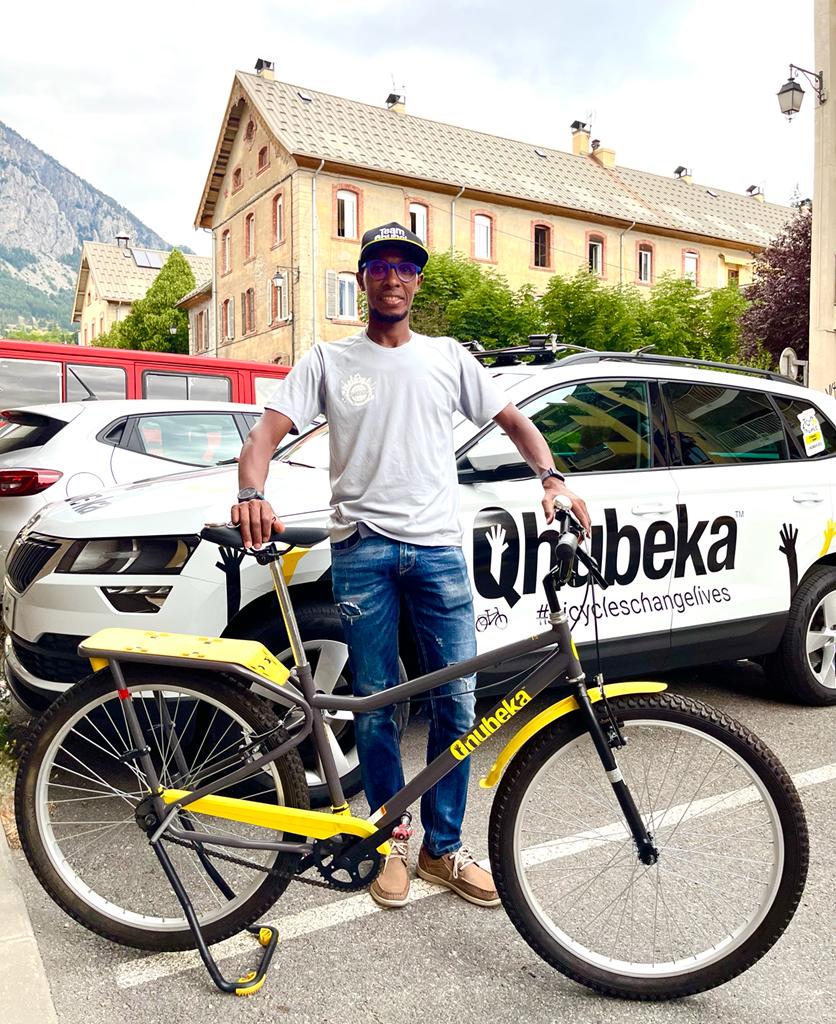 However, this is not just any challenge. He has agreed to take part to help raise awareness for Qhubeka. Qhubeka, a charity headquartered in South Africa, aims to change the lives of schoolchildren and others with bicycles. He will be attempting to complete the climb on one of Qhubeka's unique single-speed bicycles. This challenge follows on the pedal strokes of Nicolas Roche's famous #ITT lap in Copenhagen. Nicolas rode a Qhubeka bicycle as the first rider to start the 2022 Tour de France.
Adrien is the founder of the Adrien Niyonshuti Cycling Academy (ANCA). ANCA is focused on developing the next generation of cycling talent in his home country of Rwanda. He also works with Team Africa Rising as a coach and virtual training specialist. Adrien has been part of a ground-breaking project to get dozens of young African cyclists involved with virtual training.
Having spent his entire professional career with the MTN Qhubeka/Dimension Data team, Adrien is very much aware of the social impact of the Qhubeka Charity. He attended several bicycle distributions in South Africa during his team on the team.
"I am honored to ride the Tour de France course on this very special day in France, and expect the roadside to be very busy with the fantastic crowds that this incredible race attracts. I will be attempting the climb on a single speed Qhubeka bicycle. It will be very tough but I hope with my abilities, and the support of the Tour de France crowds, I will conquer the Alpe d'Huez and bring attention to the Qhubeka Charity. I am a big fan of this charity and participated in distributions when I rode for the World Tour team. Bicycles change lives."
Qhubeka is a charity that has been supported by the Tour de France for several years and will also be supported by the Tour de France Femmes for the first time in 2022. Both events support the charity through their #RidingIntoTheFuture #LAvenirAVelo commitment and have funded hundreds of bicycles to date.
The Alpe d'Huez stage also coincides with Bastille Day, a significant day of celebration in France. After a five-year hiatus, the Tour de France expects record-breaking numbers of cycling fans on this most famous of mountains to cheer on the professionals later that day. We will be there to cheer on Adrien in his attempt!
Outside of the 178 Qhubeka bicycles that the Tour de France has funded, they are keen for fans and philanthropists alike to help fund more bicycles. If you would like to make a donation to Qhubeka or to learn more, please visit the Riding Into the Future website here:
https://www.letour.fr/en/the-race/riding-info-the-future-old-v2/a-bicycle-for-all