Rwanda needed a win. A Rwandan cyclist has not won a Stage in the Tour of Rwanda since becoming a 2.1 race in 2020. Samuel Mugisha last wore yellow for Rwanda in the Tour of Rwanda in 2019, the last 2.2 classification race. Even that victory was tainted by rumors of the Rwandan teams all working for Samuel – National and Club teams effectively giving Samuel the advantage with more teammates to keep him in yellow.
This Sunday was different. This past Sunday's Stage 8 win by Moise Mugisha continues to be by the team at TotalEnergies – Moise's win overshadowed by the Kumbaya effect of the "peace and beauty in sport" narrative. The narrative should have been about the strength of Moise that afternoon with the backing of his team, ProTouch, that finished third in the Team GC.
The adage, a picture is worth a thousand words, appears to hold true. Upon seeing the photo, many of us in the cycling world messaged each other with, "What?" "That's bad" "Why?" Most of us who work in African cycling were left feeling robbed. Because of our work the years spent developing young talented riders like Moise, riders now have the power to win big stages and even more prominent races. The Total Energie riders' "gift" felt more akin to a violation. It felt like a negation of all we know to be true. Black African cyclists have the talent to win, period. Why don't they win more? Lack of race experience, tactical knowledge, understanding of their power, and efficiency all play into their ability to secure the win. These attributes take time and racing to develop. As we have discussed before, racing in Africa is intermittent and unplanned.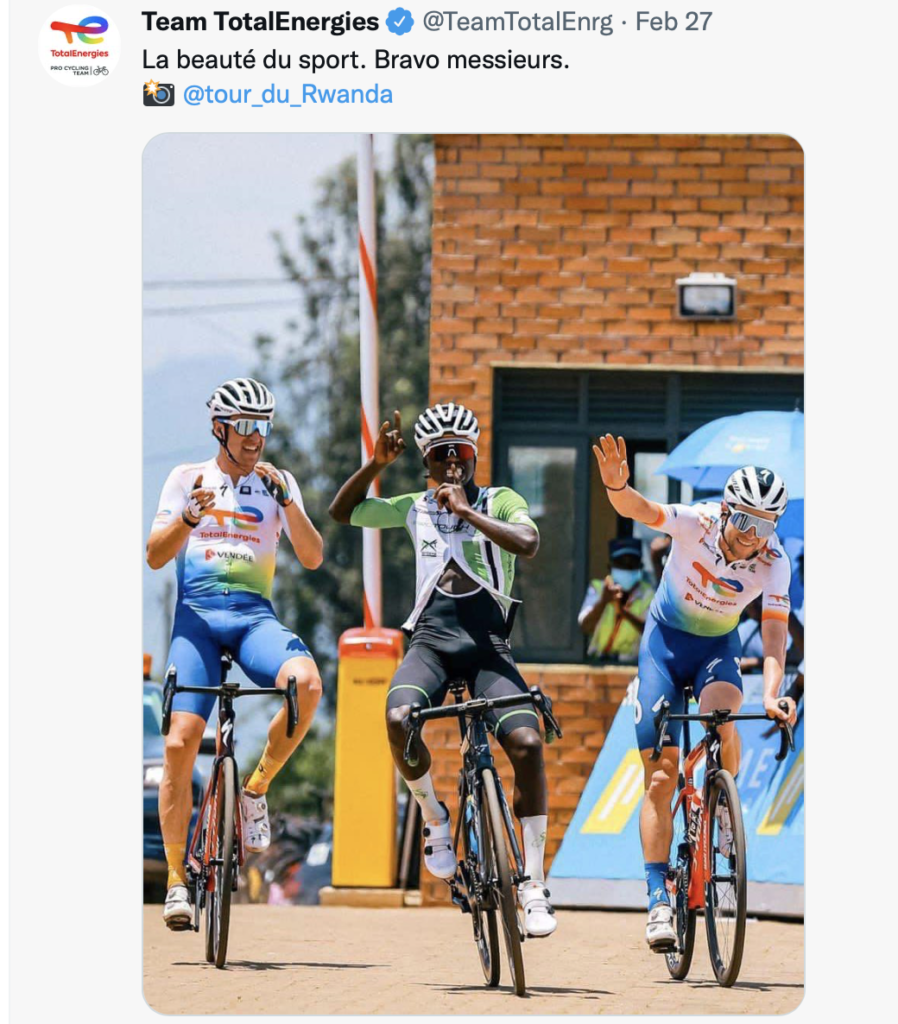 Team Africa Rising did not comment on the win. Frankly, the congratulatory words we had for Natnael were not accessible for Moise and ProTouch because of the photo. The photo clearly shows the two French riders, the two white riders, "giving" him the win. In professional cycling, there are deals made in races. There is collusion. Rarely, if ever, have there been two cyclists "letting" another cyclist win while cheering for him before they cross the finish line. It brought to mind the opposite scenario, from the 2021 Tour de France when Richard Carapaz broke away from Tadej Pogacar and Jonas Vingegaard.
Pogacar Takes Out Carapaz
The excitement for Carapaz possibly winning the stage and becoming the first Ecuadorian to win a stage at the Tour was palpable. Pogacar had stage wins. He was Best Young Cyclist, held the KOM, and wore yellow. What did he have to lose to "let" Carapaz stay away and win? Bradley Wiggins, former Tour de France winner and now Eurosport commentator, summed it up best. "He could have almost gifted the stage to Carapaz, and Ineos would have become an ally over the next few days. Those days are gone now, and Pogacar did what he had to do." Pogacar caught, attacked, and ultimately won the stage.
The Moise Mugisha, Alexander Geniez, and Sandy Dujardin from TotalEnergies situation is strangely nuanced. Moise won. They conspired to give Moise the win, and in so doing, they capitalized on the moment via social media. What's the issue? The issue is this was Moise's moment, not a moment for Total Energies to get some "feels" from the social media sphere. Most of the interactions on their Twitter account with the photo of the two riders cheering Moise on before the finish were positive. Some were not. They were called condescending and ridiculous that this was not the "beauty of sports." Team Africa Rising did not jump into the fray because we wanted to know more.
Moise Mugisha is a powerful rider. He has had his moments where his ego gets him into trouble with teams and coaches, but without a doubt, the man is a talented cyclist. He could be on any Continental Team and do well. Even with his age creeping upwards, he still could be competitive on a Pro Conti team. This picture, this unfolding of events, stole the legitimacy of Moise's Stage win. Most of us working in African cycling development felt the decision of TotalEnergies gave the appearance that Moise could not have possibly won this race without them "letting" him. That's the crux of the issue. Impressions and perceptions become one's reality.
Video Highlights of Stage 8
Team Africa Rising spoke to one of the coaches in Rwanda and he said it was Moise's day. The recent video is evidence of his ability to win going away on that day. The video is a condensed highlight reel but gives enough footage to witness Moise's power.
On Summit 4, the Mur de Kigali, Moise broke from the five-man breakaway and summited the climb in first with Sandy Dujardin and Mario Aparicio from BBH on his wheel. Alexander Geniez from TotalEnergies was briefly gapped. Moise then has a 20″ lead off the breakaway. The break reconnects, and Moise is first over Summit 5. On Summit 6, Moise and Alexander are together, and Moise is first again. Moise, Alexander, and Sandy are together when Alexander pops off the front.
With 10km to go, Alexander is still in front with Moise and Sandy approximately 13″ back. Around the 7:07 minute mark in the video, Alexander blows. He is finished. He's weaving. As we call it, he's "pedaling squares." Moise and Sandy catch him. Moise still looks strong and is leading the two TotalEnergies riders. Alexander is barely holding the wheel. Then there's a tap on Moise, and from that point, it appears the riders set the plan in place. 
Was it because Alexander and Sandy knew Moise would go away and win decisively? Or were they trying to save face? Yes, they had each won a stage, with Alexander winning two during the Tour. However, if they were so gracious and wanting a beautiful moment, wouldn't it have been better to let Moise take the win on his terms? Looking at the video and talking to coaches and riders, he could have won on his terms.
Instead, the moment became about TotalEnergies and this is where the issue lies. Comments in the Twitter thread talked about how much TotalEnergies supports Rwandan Cycling and how much they've done for the sport. If that's true, why do they not have one African cyclist in their ranks? Why not invest in a Continental Development Team in Rwanda, Eritrea, or anywhere on the continent. This decision by Alexander and Sandy was steeped in the White Savior Complex. These riders' actions and intentions were not inherently bad – except that colluding is illegal in UCI cycling. They were "giving" this moment to Moise, cheering for him, and while doing so, inadvertently enforced the narrative that Rwandan/Black cyclists cannot win solely based on their talent.
"White saviorism…..describes white people who think they are helpers to Black people….they are often helping for the wrong reasons, imposing their way of life and belief systems on people who are doing just fine on their own." – Madeline Bruce, Editor in Chief of The Gannon Knight.
As white people working to develop professional cycling in Africa, we must be aware of our space in this world, not our world. We have all had cringeworthy moments and learned, grown, and change course. This piece is not an accusation towards or criticism of Alexander Geniez or Sandy Dujardin. It highlights how detrimental this action was to the perceptions of African cyclists not being Tour level worthy. Their big, emotional moment validated their privilege in the sport and the world.
Sadly, there is more to this story. An entire back story providing context on this issue and spotlighting the racism existing in the sport is yet to be told. Perhaps that is why Team Africa Rising is still wrestling with this moment, the picture, and the loss of the opportunity for a decisive win validating Moise and his extraordinary talent. It is better to lose going down with a fight than an orchestrated, hollow win.