This year's Tour du Rwanda proved to be an edge-of-your-seat event with multiple Stage winners and General Classification holders. As with all UCI stage races fought to the brutal last hundreds of meters, there is always a melancholic sadness the day after. Eight days spent rooting for our favorite riders over sprints, KOMs, and cobbles leave us desiring more. That is what this year's Tour du Rwanda did for cycling fans worldwide. The fact that the first place GC yellow jersey cyclist, Henok Mulubrhane, from Green Project Bardiani, had the same time as the second-place finisher, Walter Calzoni, from Team Q36.5, and was separated only by stage wins and points, shows the competitiveness of this year's event. While Henok took yellow and Best African, Walter took home the Best Young Rider with a one-second advantage over William Lecerf from Soudel Quickstep Development Team.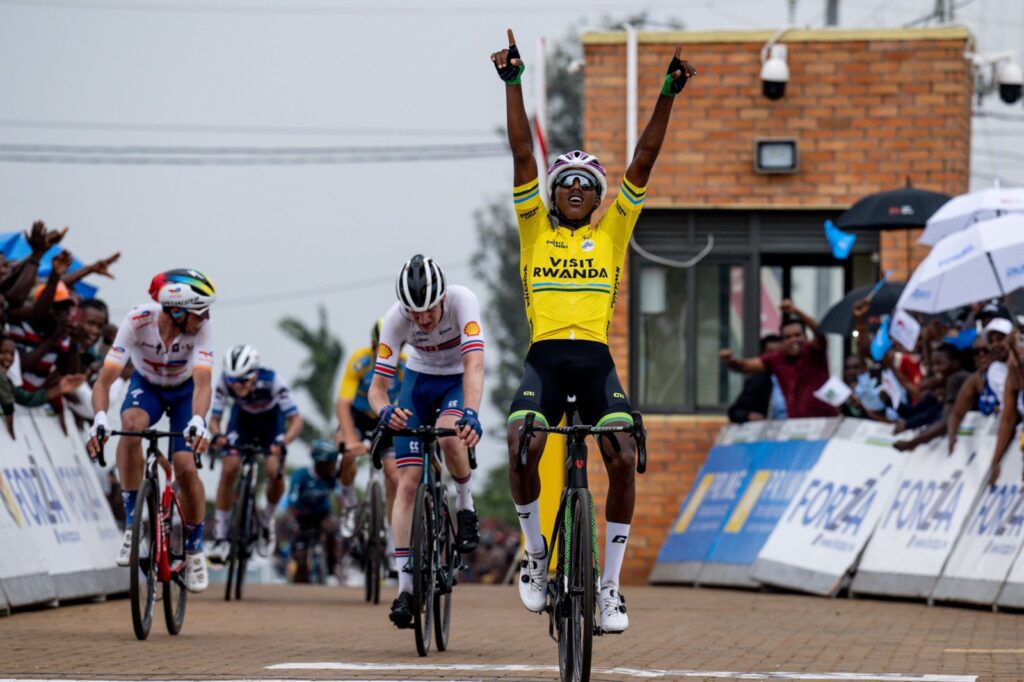 Since we've had a couple of days to let the dust settle and to reflect on the 2023 Tour of Rwanda, Team Africa Rising would like to highlight the winners and the defeated, the riders and teams to watch ahead of the European season, and the riders and countries which need to be highlighted as entities needing a little regroup to enter and finish the 2023 season in a stronger place.
The Race Itself — Bravo Tour du Rwanda
First off…the big winner of this year's Tour du Rwanda was the race itself. Viewing the event as an original founder and now as an enthusiastic fan, the race offered such a variety of stages, from the first two full-on sprint stages to the brutal Stage 3 climber's gambit, which blew apart the GC. The race was exciting because from Stage 3 on, it was anyone's to take.
In 2008, when the late Rwandan Minister of Sport, Joseph Habineza, then FERWACY President Aimable Bayingana, TAR Founder Jock Boyer, and GSO Organizer, Olivier Grandjean, met to deliver on a vision of a "big race" in Rwanda could they have imagined this 2023 event? This year's Tour of Rwanda and its organization and "wow" factor clearly demonstrates that the 2025 UCI World Championships event in Rwanda will be one for the ages, but at what cost long term?
The Fans!
Fans….Rwanda has the best fans, enthusiastic, always wanting more, packed on the roads several people deep, promoting their favorite riders. The fans deserve this professional event, and they deserve a home country team that can live up to this level of racing. The fans rival the fans at the Tour de France, maybe even outpace them. BRAVO Rwandan cycling fans!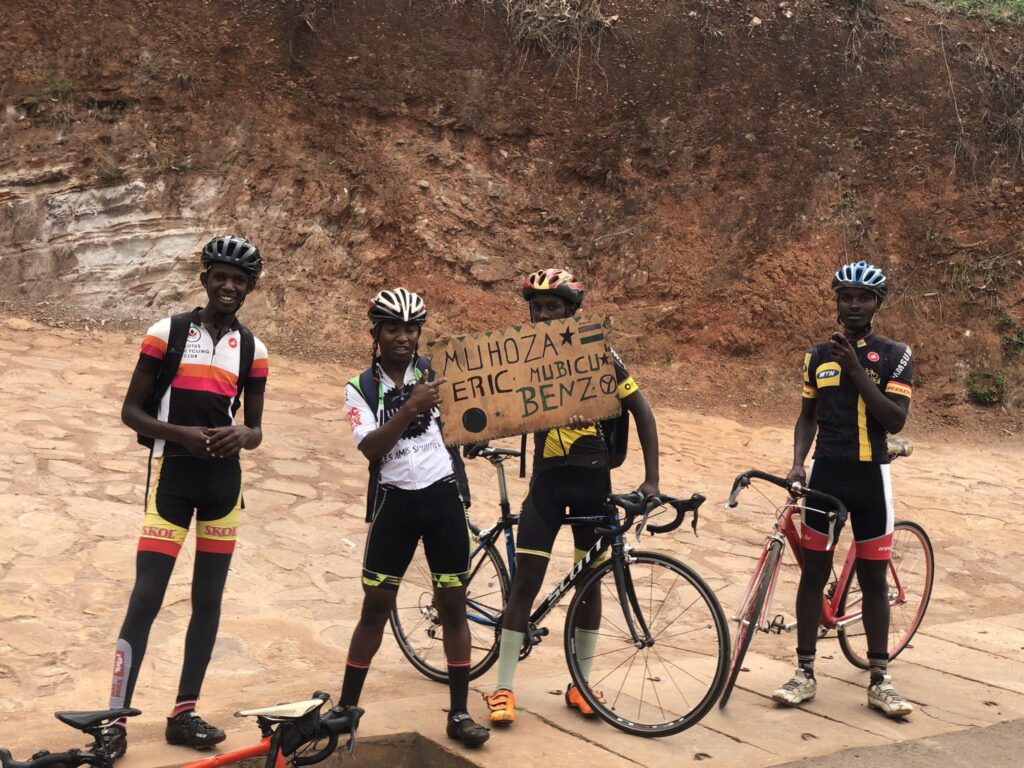 Eritrean Cyclists
Eritrea….of course, a Tour of Rwanda wouldn't be the Tour of Rwanda without Eritrea. Eritrean cyclists have won the event in four of the last five years. Merhawi Kudus, Natnael Tesfatsione (twice), and now Henok Mulubrhane with two of these three racing on World Tour Teams with Henok on the radar of these teams.
Another Eritrean standout was Akiliu Arefayne, taking thttps://www.procyclingstats.com/rider/daniel-teklehaimanot/2023hree combativity jerseys during the event and finishing in second in the KOM competition. This 18-year-old (19 in July) was all over the place and was such fun to watch. He signed with Circus ReUz Technord, the Continental Development team for Intermarche, home of Biniam Grimay, earlier this year and will continue the 2023 season with this team.
At the Tour of Rwanda, he rode for the Eritrean national team under the veteran leadership of another former Tour of Rwanda winner and 2015 Tour de France KOM jersey holder, Daniel Teklehaimanot. Daniel and Akiliu finished 30th and 31st, respectively, in the GC. If there were anyone TAR would target as a "Must Watch" for 2023, it is this young phenom. Once he figures out how to harness, use and conserve his power and gets some more professional racing under his legs, he will undoubtedly be a force like his countryman, Biniam. Perhaps why he's in the wings of Intermarche?
South African Cyclists
South Africa….great to see South Africa fielding a national team for the Tour of Rwanda, and they came with winning in mind. Led by the 27-year-old veteran Kent Main, with extensive palmarès in several appearances at the Tour du Rwanda, including several Top 5 GC places at the event over the years. Kent moved up to fifth place in the final stage and clearly demonstrated he has the ability to race at a Continental or Pro Continental level. Currently, with the shuddering of ProTouch at the end of 2022, Kent is racing for a club out of South Africa.
Another South African standout is Callum Ormiston, who decisively won Stage 5 into Rubavu. Callum, at only 22, spent his first few years with ProTouch and is now racing with Global 6 Cycling, a New Zealand-based Continental Team. Callum rode an impressive race at the 2022 Maryland Cycling Classic, finishing 46th with the majority of the field OTL and DNF. He mixed it up in a 1.Pro race with top World Tour professionals and lodged a solid performance. He's definitely in the market for a shot at the top levels of the sport.
Finally, another South African, Marc Pritzen, riding for EF Education-Nippo Development Team, snagged the Mountain Classification win in his second outing with his new team with a 21st place GC finish at Tropicale Amissa Bongo in January.
Team Bike Aid
We can't round out our top performances without giving space and kudos to the African riders of Team Bike Aid, a Continental Team based in Germany, Dawit Yemane from Eritrea, and Eric Muhoza from Rwanda. These two young men battled all week, and going into the last stage, they were in the hunt for the GC. Dawit was in 11th 54 seconds back. Eric was in 6th, only 8 seconds from the lead, and Best Rwanda by almost 20 minutes. Anything was possible going into the final stage. Unfortunately, in the final stage, Eric had a major mechanical, which dropped him over 8 minutes back, finishing in 14th overall. Dawit picked up four places to finish in the top ten in 7th position.
Eric was the breakout star for Rwandan cycling. He came up through Adrien Niyonshuti's project in Rwanda and spent the summer racing in France with Steven Laget's Rouler pour le Rwanda organization. He did well in France and was picked up by the UCI World Cycling Center Team to race the prestigious Tour de l'Avenir, where he finished 71st, with a performance that drew the attention of BikeAid. Team Africa Rising confirmed Eric's potential with Bike Aid management, and he signed in early 2023.
Sadly, he may be one of the last bright stars for Rwanda in the coming years as Adrien has closed his Academy in Rwanda, and Steven Laget has no plans to continue taking Rwandan cyclists at this time. Eric, Adrien's cousin, has the potential to move up the ranks to Pro Continental and possibly World Tour, which would make him only the second Rwandan to achieve that pinnacle in the sport.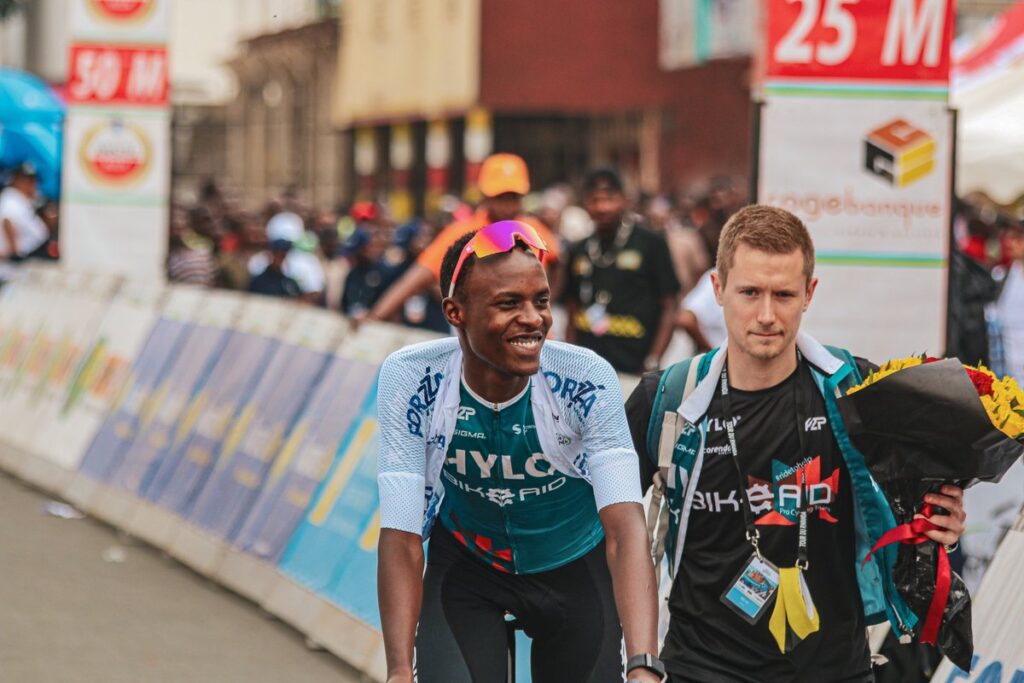 Morocco
Noticeable omissions in dominance from this year's Tour was one of the top nations on the Africa Tour, third place Morocco. Morocco ended the race with only one rider left racing, Achraf Ed Doghmy finishing over an hour back in 36th place. Morocco and Algeria are only a little over 200 points separating 3rd place Morocco from 4th place Algeria. They picked up zero points at the Tour du Rwanda this past week, and Algeria, who canceled at the last minute, heads into their Tour of Algeria March 7 – 16th, where they are sure to capitalize on UCI points. Third place is critical as UCI Africa Tour events are obliged to invite the top three nations in the Africa Tour rankings.
Rwanda
Finally, Rwanda's National Team. The Rwandan National Team had a lackluster race. Only veteran Bosco Nsengimana, age 30, had a few moments in the breakaway and held the KOM jersey for a single stage. Overall, the team seems to lack any plan or strategy. The lack of investment in juniors and U23 is evident, with only Eric Muhoza and Samuel Niyonkuru (26 minutes back) finishing in the Top 25. Both of these riders came through Adrien and Steven's programs which no longer invest in Rwandan cycling. Only three of the five National cyclists finished their National tour.
Could this possibly be put down to the cycling federation announcing the national team coach, Felix Sempoma, was being let go for 2023, and they are looking for a new national team coach? At the time of writing, there has been no news of a replacement. With Rwanda now sitting down in 6th in the Africa Tour and only one male rider signed to race outside of the country in 2023, it might not just be a new coach who is needed. From the highs they experienced last decade, it might be time for a complete overhaul. A comprehensive plan of cycling development is long overdue to avoid any further local degradation ahead of hosting the World Champs.