Results and Reflections on the Race and the National Team
The Tour du Benin, May 2 – 7th, the second year as UCI 2.2, highlighted some of the best talent on the African continent and the power of ownership. The Benin Cycling Federation (FEBECY) hosted an extraordinary event filled with exciting racing, opportunities for UCI points, and demonstrated that African races can be professionally run by a dedicated and professional Federation. The Tour du Benin is 100% owned, operated, and managed by FEBECY with hundreds of support volunteers, security forces, and dedicated Federation members. 100% Beninois. This is important in the wake of recent news out of the Tour of Rwanda with the owner of GSO pulling out of managing the Tour of Rwanda after directing the race since it became a UCI event in 2009.
Team Africa Rising began working full time in Benin with the Benin National Cycling Team and FEBECY at the beginning of this year. Adrien Niyonshuti, former Rwandan Olympian and retired World Tour professional became the National Coach. He spent most of January and February in Benin working with the team, alongside Team Africa Rising CEO, Kimberly Coats, who worked on overhauling the nutrition and diet of the cyclists along with teaching strength training and yoga programs. During Adrien's time at home in Italy, he coordinated with the Benin coach trainees and monitored rider training and data.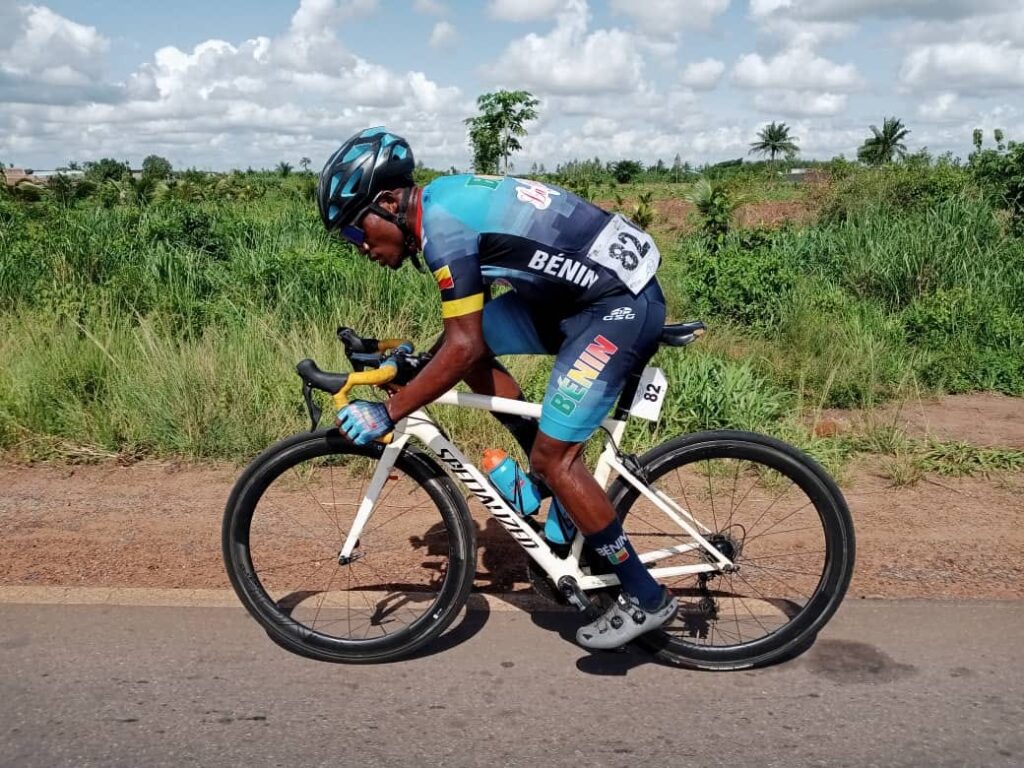 Tour du Benin Preparations
The two returned in April and May specifically to prepare the team for the Tour du Benin. For five weeks the pair trained the twelve cyclists and four coaches to improve on the performance from the 2022 Tour du Benin. This included longer and more specific training programs. They added racing on Zwift, cadence work on Wahoo SYSTM. The team had hours on the road, followed by yoga, strength training and an introduction to meditation and visualization.
The cyclists lost weight and their fitness levels improved remarkably. TAR worked with the cooks and the Federation President to improve the nutrition. The meals became less carbohydrate heavy and more fat and protein integrated. Yoga improved their flexibility on the bike and the dreaded Wahoo SYSTM core sessions resulted in increased power and endurance. All of these programs implemented by Adrien and Kimberly were taught to the Benin Assistant Coaches. Their hunger for knowledge and responsibility for their teams was impressive.
The Results
The National Team fielded two separate teams for the Tour du Benin along with eleven other international teams from Europe, Guam and Africa. Each team comprised five cyclists. Benin's top cyclist for the Tour was Ricardo Sodjede, a 20 year old who had spent time in South Africa with the World Cycling Center South Africa. He also spent a month in France last summer with our partner, Steven Laget. Ricardo came into the race with his best level of fitness. He also had a nagging medical issue that could not be dealt with until after the race. Ricardo took it day by day. In the end, he stayed healthy and finished in 10th place in the General Classification. He was only 50" off of first place.
Everyone knew the Tour du Benin was going to be a fight between Morocco and Algeria who currently sit 3rdand 4th respectively in the Africa Tour with only about 100 points separating them. Yacine Hamza, a beast of a rider with ridiculous power from Algeria, owned the stage win category notching wins on Stages 2, 3, and 5. The stage wins were not enough to unseat Achraf Ed Doghmy from Morocco who took the GC win by only 6". Both countries took home the most UCI points.
Benin's Results Year Over Year
Team Africa Rising knew the results were better year over year but did not realize how much better they were until reviewing the stats after it was all said and done. TAR knew the Benin Federation and the Beninois people were thrilled, but their focus remained on the riders during the Tour without much opportunity to reflect.
How much did they improve?
2022 Tour du Benin
In 2022, the Tour du Benin fielded six cyclists per team with the National Team of Benin fielding two teams of six. The top finisher was Remi Sowou in 46th place 52' (yes, MINUTES) back. Ricardo who finished 10th in 2023, was 43rd 1 hour and 2 minutes back. In total, of the 12 cyclists between Team Benin A and Team Benin B only six riders finished. There were five riders from Team Benin A and only one rider from Team Benin B.
2023 Tour du Benin
In 2023, along with Ricardo's top 10 GC finish, Team Benin A Captain, Emmanuel Sagbo finished 30th (8'10" back). Romuald Soudji, 31st (9'03"). Remi Sowou, 32nd (9'39"). Emile Houeto from Team Benin B, finished 40thplace after a bad crash on the final stage, along with his teammates, Christian, Sidi, and Ezer rounding out the team. Out of 10 riders to start, 5 on each team, 4 riders from each team finished. In 2022, Team Benin only finished with 1 cyclist from the team a 17% finish rate. In 2023, the finish rate was 80%. Many of the cyclists on Team Benin B were the same year over year and they showed remarkable improvement.
Sadly, Glorad Saizonou, a promising 19 year old riding on Team Benin A contracted malaria days before the race and although he tried to race, he was unable to complete Stage 1 and had to drop out.
2022 vs 2023 Comparison
Comparing the quality of the race year over year with stats from Pro Cycling Stats, in 2022 the Tour du Benin had an average speed of 40.135 km/hr, a startlist quality of 2 and a race ranking of 416. In 2023, the average speed was 43.768 km/hr, a startlist quality of 10 and a race ranking of 326 – improvement in all three categories. Team Benin not only placed higher but did so in a faster, higher competitive race.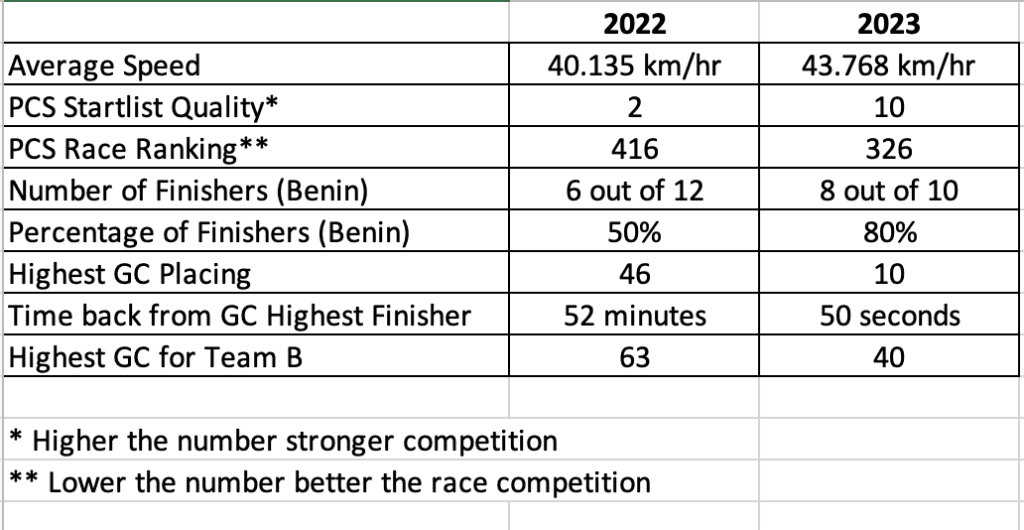 Subjectively, the gains were compelling. In four short months the cyclists and coaches embraced the entire program from training, to yoga, nutrition, strength training, and mental fortitude. Every person – rider, coach, mechanic, staff – embraced their team, embraced the responsibility to take the knowledge and experience of people like Adrien and Kimberly and to make it part of their organization. Team Africa Rising's directive is to teach countries how to better run their programs and to develop successful cyclists, not to run their programs. To run their programs is to fail the organization in making it unsustainable.
There is no question Benin has untapped potential, not just in athletic performance but in the power of ownership and responsibility. Benin also has leadership from the FEBECY President down through coaches and staff. It is the consummate recipe for development.