13.3.2023: FOR IMMEDIATE RELEASE
Team Africa Rising steps up its support of the SiS Tour de Lunsar and women's cycling in west Africa with blue jersey sponsorship.
Lunsar Cycling Team is pleased to announce that Team Africa Rising will sponsor the blue jersey awarded to the women's winner at the 2023 SiS Tour de Lunsar.
Team Africa Rising (TAR) has been operating since 2007 and is one of the biggest drivers for the development of cycling across Africa. Lunsar Cycling Team has worked alongside TAR for several years and benefitted from them providing our riders with eight high-quality racing bikes as well as important technical support.
In 2021, Team Africa Rising also provided a comprehensive training course in bike mechanics for locally engaged stakeholders in the cycling scene. This has helped improve the quality of cycling infrastructure in Lunsar and Sierra Leone nationally.
Building on an already prosperous partnership, Team Africa Rising has this year sponsored the women's blue jersey ahead of the 2023 SiS Tour de Lunsar as part of their aim to increase their support of women's cycling across the continent.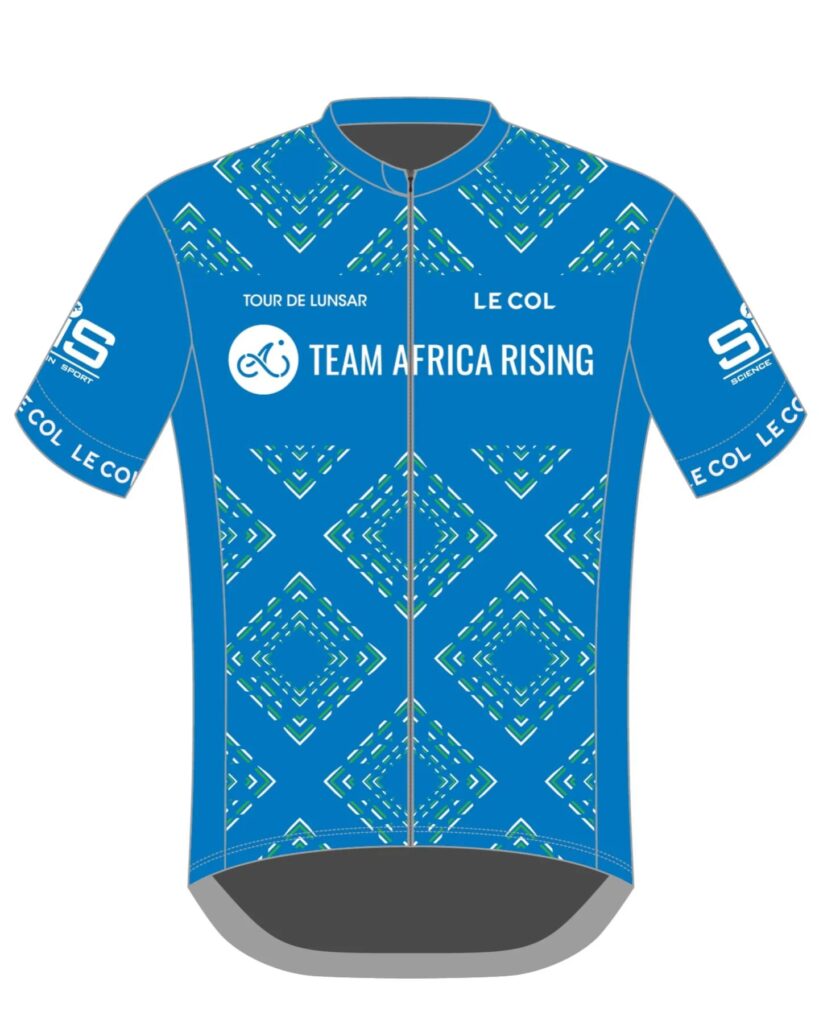 Team Africa Rising CEO Kimberly Coats said:
"For 2023, we are proud to be associated with the Tour de Lunsar and are honoured to be sponsoring the Women's Tour de Lunsar blue jersey. Lunsar Cycling Team is committed to fuelling the rise of west African cycling for women in Sierra Leone and Team Africa Rising is happy to support."
Lunsar Cycling Team founder and CEO, Abdul Karim Kamara, added:
"We would not be where we are today in Sierra Leonean cycling if it were not for the support of Team Africa Rising. We thank them for their ongoing support, and we are immensely proud to showcase their name and logo on the blue jersey this year."
The 2022 women's race was won by Deborah F. Conteh, with her Lunsar teammate Elisabeth Mansaray in second place and Blessings Jabbie (Kono CC) rounding out the podium. This year Conteh returns to defend her title as the head of a newly-founded women's team, the first of its kind in Sierra Leone, Team Ubuntu.
The jersey will be designed and manufactured by the leading cycling apparel company, Le Col.
The forthcoming edition of the SiS Tour de Lunsar women's race takes place on 26 April 2023.
––– ENDS ––––Imagery:
https://drive.google.com/open?id=10YYWq8WrdAVY202FI4zoHuEXB326oUaa&authuser=thomascharlesowen%40gmail.com&usp=drive_fs