"What are you doing under that table?" Jock asked the young, visibly afraid Rwandan adolescent.
It was 2014, and Team Africa Rising had just moved into the abandoned compound on the road to Kinigi in the northern area of Musanze. The compound built by an Austrian road construction company was the perfect blank canvas for creating the Africa Rising Cycling Center. In late 2014, after Team Rwanda Cycling won its first UCI 2.2 Tour of Rwanda, President Kagame announced that ARCC was the permanent home of Team Rwanda Cycling. With that, Team Africa Rising went to work building the necessary infrastructure to make this compound, specifically the bike mechanic garage, the state-of-the-art garage in all of East Africa.
The garage was an unfinished shell. Doors need to be moved, a driveway poured, and a platform built next to the garage to set the storage containers. TAR hired Leonce Kabibi, a local contractor who came highly recommended for his skills and honest work. Leonce, in turn, hired over twenty day laborers who built walls, poured concrete, and carried the vision into reality. This project went on for well over a year.
Leonce hired a construction foreman to oversee the day-to-day operations and this man was there in 2016 when Jock met Oliver. The son of the foreman was the kid under the table that day. The young 18-year-old, Oliver Tugirimana, tagged along with his dad, wanting to be part of the action. He made himself scarce, under the radar, since he wasn't a worker and was afraid he shouldn't be at the center. He made himself scarce until the day Jock saw him under the table. That day, that moment forever changed the trajectory of his life.
"What are you doing under that table?"
Oliver went on to tell Jock he was there with his dad. He said he was an apprentice at a school to learn auto mechanics.
"Do you want to learn to be a bike mechanic?" Jock asked. "If you're going to be here we might as well teach you all about bikes."
Oliver started working with our head American mechanic, Jamie Bissel, and shadowed our Rwandan mechanic, Rafiki Uwimana. Every day he hung out in the garage, learning while his dad built the garage and surrounding projects. When Team Africa Rising hosted a bike mechanic course, Oliver was there. He was a sponge and loved being in the garage. He was good, one of the best Rwandan mechanics we ever trained.
Jock left in 2018 after the Team Africa Rising transition to the Rwandan Cycling Federation and Ministry of Sport. Oliver stayed at ARCC, working as a mechanic for the National Cycling Federation. Two years ago, Jamie, now working in Europe with USA Cycling, brought Oliver a complete toolbox from Park Tool when he came for the Tour of Rwanda. Oliver was working as neutral support mechanic for the Tour. Oliver, always hungry to know more, wanted the best tools to do his work.
Once again, another significant intervention changing the trajectory of his life happened at the last Gorilla Gravel Race in Rwanda. Simon De Schutter, a Belgian race organizer, asked Oliver to be a race mechanic at the event. Oliver's work ethic drew the attention of a man who owned a bike shop in Dubai. He brought Oliver to Dubai to gain more experience on SRAM electronic shifting and gravel bikes in general. He was so impressed with Oliver's commitment to his craft, he hired Oliver to work at his shop.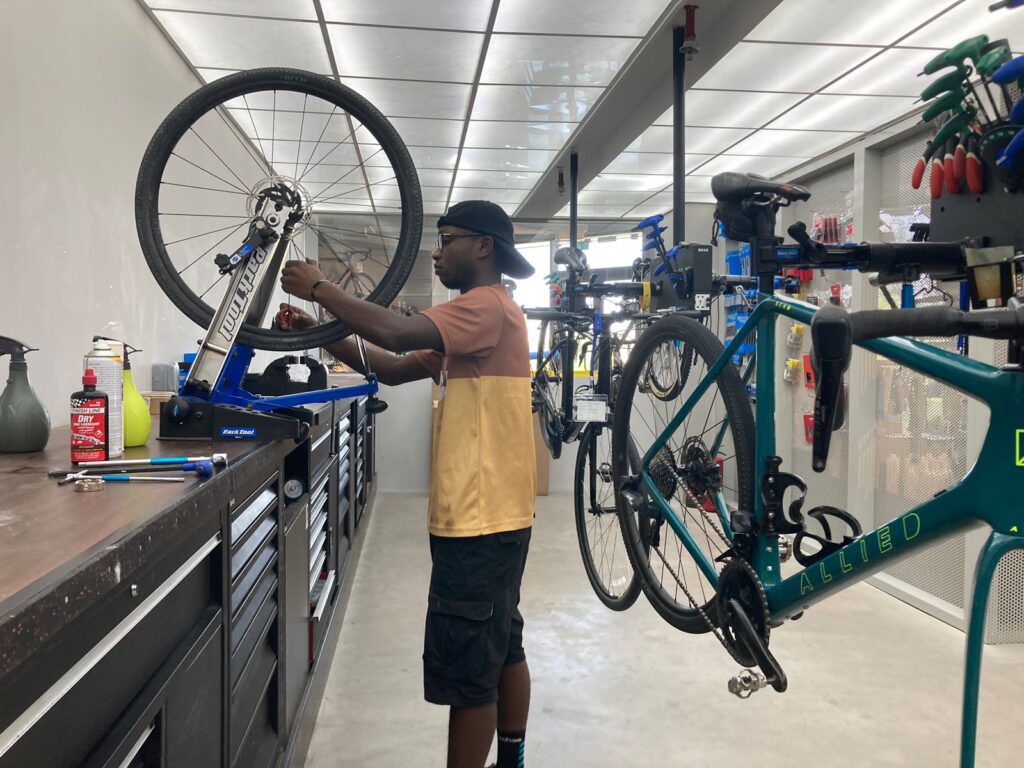 Today, Oliver is working as a mechanic at Edge Cycling, one of the premier bicycle shops in Dubai.
On Oliver's Facebook page, there is this quote….
"Sometimes it's the smallest decisions that can change your life forever."
The decision to pull Oliver out from under that table, to engage him in an area that interested him, to give him the skills and tools to be the best he could be – the smallest decisions opened his entire world.