This week ProTouch, a South African-based UCI Continental team, announced it was folding after a four-year run. This announcement comes on the heels of the potential exit of two other African-based Continental teams, Benediction Ignite and May Stars, both out of Rwanda. Bai Sicasal out of Angola is always an outlier and questionable for registration in 2023. They primarily race in Angola and Portugal with minimal action on the African continent.
Sidi Ali, a Moroccan-based Conti team, could be the only African Continental team left standing for the 2023 season. Following the ProTouch announcement, they somewhat opportunistically announced on their social media they were the number one team on the Africa Tour – they are currently the ONLY team on the Africa Tour….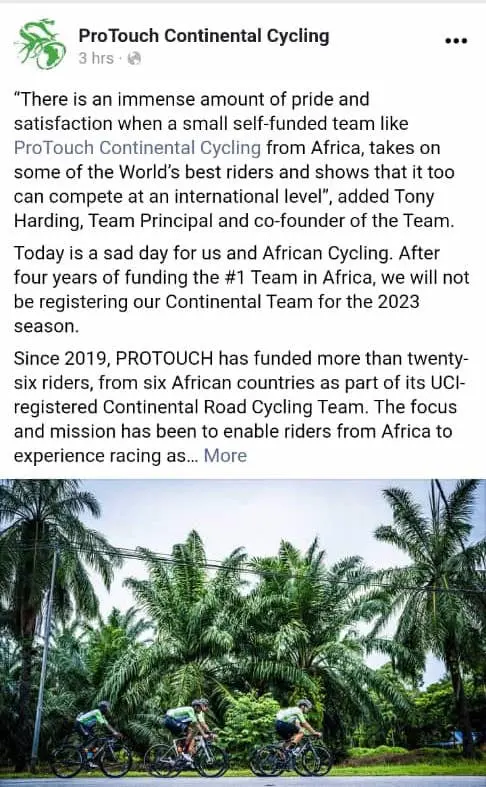 The deadline for teams registering with the UCI is generally November. For African teams, it has gone as late as the week before the Tour of Rwanda in February in the case of 2022's Benediction Ignite. So, anything is possible. But looking at the Benediction Ignite case, the origin of registration monies was questionable. The only race they did the entire season was the Tour of Rwanda. Will that be the case in 2023? Quite possibly. But does that make Benediction Ignite a competitively functioning development team? Hardly.
The same is true with May Stars, currently in the Go Fund Me stage, with 1,500 Euros raised of a 200,000 Euro goal. This Rwandan-based Conti team registered in 2022 and never raced. Their Eritrean and Rwandan riders raced their respective National Championships but not once raced as May Stars. The riders didn't receive their "team" bikes until the end of this season, only a month ago.
ProTouch's exit, primarily the only team to race internationally, outside of Sidi Ali's Tour of Iran and last week's series of races in Morocco with only one African National team in attendance, Mauritania, leaves African cycling scrambling once again to showcase talent. Pro Touch billed itself, according to social media, as a development team. However, its riders are mostly cyclists who have already attempted to break into the European circuit and are on their way back down. For example, only two of the seven Rwandans on the roster were riders who had yet to be to Europe. The remaining five raced on European-based teams and the UCI CMC team and were cut.
Thinking about the development team angle, African riders genuinely need development, and the stats are sobering. In 2022, the average age of ProTouch riders (according to the roster on PCS) is 23.2, with the top 5 riders' average age of 24.4. That is different from a development team, especially with the learning curve for African riders. Contrast that with Axeon, run by Axel Merckx, with an average age of 20.5. This team is one of the most successful development teams in the sport. The average age of Axeon's top 5 is 20.0. That is a significant difference if you're attempting to launch riders onto the European tour and European-based teams. European teams will NEVER take a 25-year-old African rider just because he won a stage at Chantal Biya in Cameroon.
There however continue to be some bright spots within this space: The Team Qhubeka Continental team will continue afresh for the 2023 season as the Q36.5 Continental Team with five African riders on the roster – three from Eritrea and one each from Algeria and South Africa. In addition, this team's parent (Q36.5 Pro Cycling) has just announced its Pro Continental roster for the 2023 season, with the exciting young Ethiopian rider Negasi Haylu Abreha featuring prominently in the Doug Ryder-managed team. This will be a great challenge for him, and a great example for all young African talent across the continent.
Those who have worked in African cycling for many years recognise the myriad issues that we face in getting these riders the opportunities they deserve. It is rarely the quality or talent of athletes, the most prominent hurdles continue to be:
Infrastructure: Racing Experience
There are not enough races on the continent and never enough races within individual countries to prepare cyclists for the next level. Rwanda used to have two UCI races, the Tour of Rwanda and Kwita Izina. Now it only has the Tour of Rwanda, since upgraded to the 2.1 level, attracting several big European teams on the hunt for UCI points which has the unfortunate side effect of shutting out some African teams who need the experience. Couple that with the folding of ProTouch, and riders are scrambling to find a team so they can race. Team Africa Rising has received many heartbreaking pleas to help find these riders' teams. We pray to see more African Continental level teams announced for 2023 in January.
Travel Expenses
European Continental Teams jump in cars and buses and drive to hundreds of races within a few hours to a maximum of a day. African teams have to fly everywhere. Consider almost $10,000 per race to fly a team, staff, and luggage. That decimates a budget quickly. ProTouch capitalized on some race invites where race organizers covered travel. However, more is needed when every race is a multi-day travel experience.
Cost/Sponsorship
Football is king in Africa. Cycling is the court jester at the moment. This sentiment is not true in all countries. Eritrea reigns in cycling. But it's the exception, not the rule. Companies sponsor football. They don't support cycling because they do not feel they get enough bang for their buck. After all, the teams don't "play" enough.
What African cycling needs is a truly Pan-African company to step up to the plate and INVEST in cycling. It cannot be transactional. It needs to be a partnership of long-term Pan-African development. We're talking to you DHL, Vodacom, and African Development Bank. Credit to Pro Touch for attempting to change the funding model for African cycling but still, too much remained self-funded. That is not sustainable. African cycling needs a large, long-term developmental cash infusion.
UCI Partnership
Because Africa is a massive continent with so many diverse countries, development needs to be in partnership with the UCI. The UCI needs to work with people on the ground who understand first-hand the needs of the sport. It needs to be a true collaboration. One recent significantly positive development has been with the UCI WCC Africa led by JP Van Zyl. Over 30 cyclists are training and racing in South Africa – primarily junior men and women – with the top riders being considered for an extensive training and racing block in Europe next summer. This support is precisely what these young cyclists need – European exposure.
The UCI also fields a significant portion of African riders for its CMC team which makes a difference in preparation for these young men and women. Nesrine Houili from Algeria raced for CMC last year and is now on her way to Canyon/SRAM Women's Development Team. UCI's CMC team also has Salem Amha who got her start at the Africa Rising Cycling Center at camps in 2016 and 2017.
Where the UCI lags is in addressing the constant corruption from the top of the African cycling network. The UCI needs to deal with corruption at the Confederation of African Cycling and its corruption-fueled influence on National Federations. Where exactly do the hundreds of thousands of dollars go? Not into programs on the continent. CAC has never made its budget accessible to the Federations. Maybe it's time for a little transparency? That is an entirely additional deep dive, not for today.
Education/Assistance
Many African cyclists have yet to be afforded the opportunity to receive a top-quality education. Private schools are expensive in these countries. Government schools are generally overcrowded and lack many vital resources, including well-qualified and trained teachers. This situation disadvantages these young people before they even swing a leg over the bike. When they get to Europe, they often do not speak English or French, and coupled with the culture shock and lack of life skills in this new environment; they quickly get homesick and lonely. They need to be better prepared to enter that world.
Organizations like Adrien Niyonshuti Cycling Academy (ANCA) in Rwanda understand this plight. They have implemented an online English class, in-person English, life skills training, and nutritional education. Every bit of attention paid to all these additional factors will only better prepare these young people for success.
ProTouch leaving the UCI Africa Tour is a significant blow to the sport on the continent. However, it's also a lesson to be learned in what more is needed to bring this remarkable talent to the world stage. The news is not all dire. There are so many pockets of current and future success to inspire hope and investment. Benin is where Team Africa Rising was with Rwanda in 2009. The difference is that Benin's support structure and leadership are considerably more robust. Armed with past experience, this rising country can quickly shorten its path to success.