Malawian cyclist, Macpherson Mbeya, will be the solo Malawian athlete taking part in the UCI 2023 Cycling World Championships, being held across Scotland (UK) from the 3rd to 13th August.
Macpherson, who works as a clinical officer in Mzimba, will be competing in three different disciplines:
Gran Fondo: A 100-mile road race through the Perthshire countryside with over 1,600m of climbing (4 August).
Mountain Bike Marathon XC: A 60-mile off-road race being held at Glentress in the Tweed Valley (6 August).
Men's Elite Individual Time Trial: A 14 mile ITT being held in Glasgow (7 August).
Supporting African cyclists
Alongside the ongoing issue of obtaining UK and European visas to compete, as we also often highlight, aspiring African athletes are hamstrung on many occasions by simply not having access to the correct equipment in order to race on a level playing field.
We are very happy to share that the nation of Scotland has activated on this point, with an independent bicycle shop in Glasgow – with support from a business group called the 'Scotland Malawi Partnership' – will be suppling Macpherson with high level bicycles on which to race all three events.
Macpherson Mbeya: "This will be the first time in my life that I have seen, let alone used such bikes. I never dreamed that I would get to ride a bike that is the correct size for me. I have had to modify the road bike which I use in Malawi, which is too big for me. I'm really looking forward to competing in Scotland, to meeting friends there and to representing my country."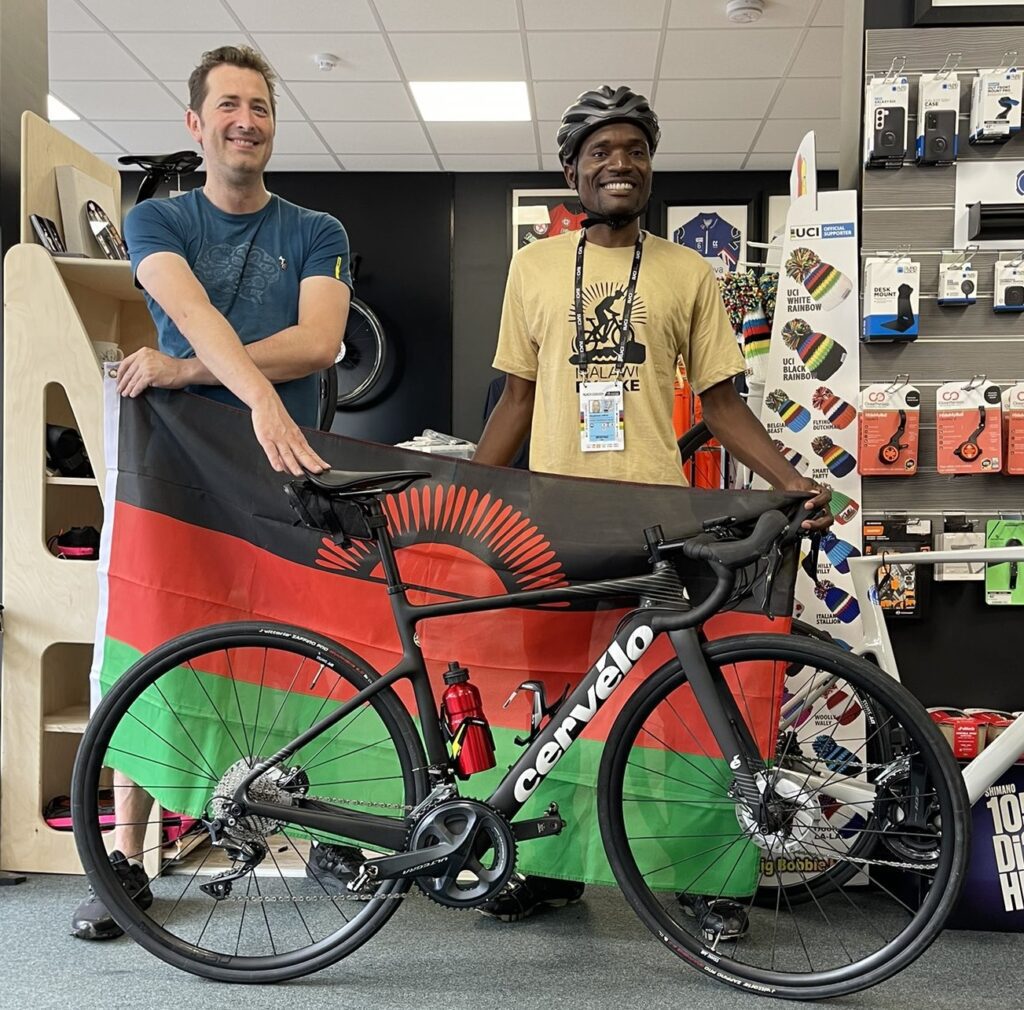 Billy Bilsland Cycles
This has been made possible by the huge generosity of Billy Bilsland Cycles. They will be providing a 51cm Cervelo Caledonia with Ultegra (pictured above); a 51cm Cervelo P3 Di2; and a Genesis Mantle HT. Additionally, this is also not the first time this shop has helped Malawian cyclists, with them also lending discipline-relevant bikes to competitors taking part in the Commonwealth Games, held in Glasgow in 2014.
This is an excellent example of intra-nation cooperation and truly in the spirit of the UCI Cycling World Championships. As Stuart Brown, Interim CEO of the Scotland Malawi Partnership, says:
"We are thrilled that Macpherson is competing in the World Championships here in Scotland. It's particularly impressive that [he] is taking part in three of these gruelling events. Billy Bilsland Cycles in Glasgow are again being so supportive and we really appreciate the generosity of Manager Neil Bilsand and his team. Along with our Scottish riders, we'll be cheering for Macpherson!"
Macpherson will be accompanied at the event by Malombo Kayira, the President of the Cycling Federation of Malawi. The Malawian Federation is providing some financial support to Macpherson.
To follow Macpherson's progress, you can find him on Facebook HERE. TAR will be sharing his, and all African riders' results, across our social media channels in due course.
#AfricaRising #GlasgowScotland2023